CITTA DIARY
2023-24
手帳の歴史
The history of the CITTA TECHO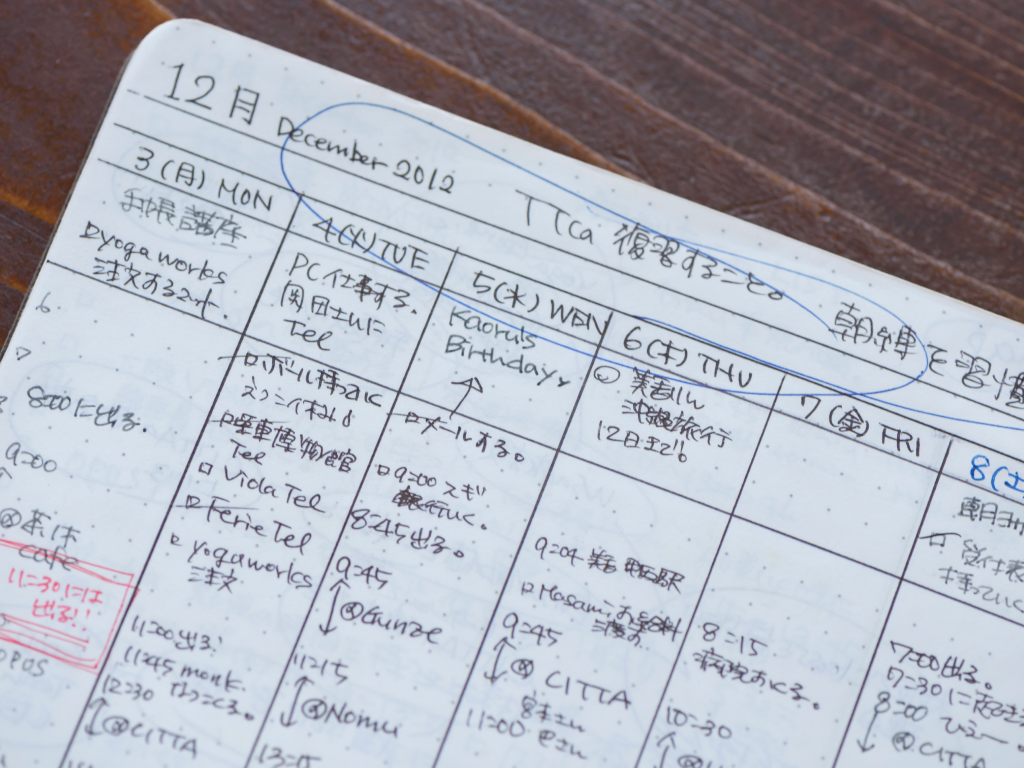 2012
始まりはこの一冊から。365日手書きの手帳でした。
「理想の手帳が売ってないなら作るしかない」
とノートに手で書いて手帳を作ったのがCITTA手帳の始まりです。
毎日カフェに入り浸り、飽きもせず3時間ほど手帳を書く姿に周りに驚かれていました。
カフェのオーナーに「いつかそれが商品になったら、最初は手書きだったのにね〜って笑い話になるよ」と言われながら。

This is the schedule notebook where it all started. It was a 365-day handwritten notebook. 'If I cannot find the ideal schedule notebook, I will have to create it.' This was what I wrote in my notebook and that was how CITTA TECHO came into being. People were fascinated by the fact that I spent three hours a day in a café writing in my schedule notebook. The café owner once said that I would look back and laugh that my notebook used to be handwritten once they had become commercialized.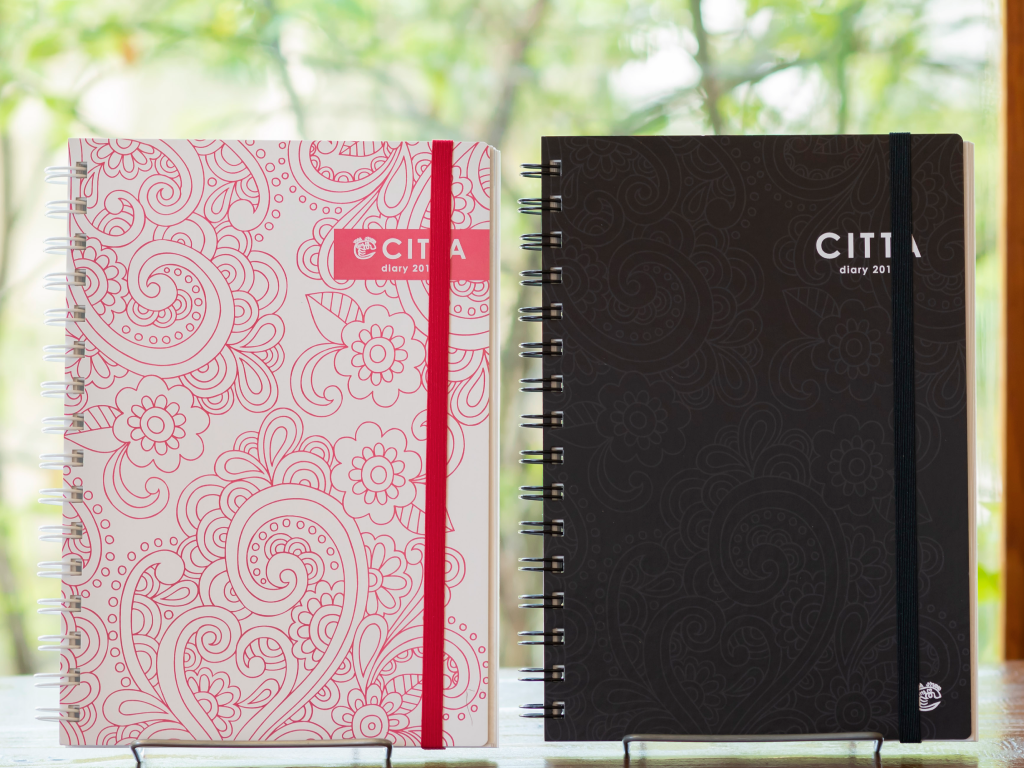 2014
CITTA手帳記念すべき初版の手帳。
こちらのリングノートタイプでした。
想いが高じて制作に踏み切ったのがこの手帳。当初、予算もなくただサンプルとして5冊だけ印刷会社に依頼したもの。
SNSにアップすると、「私もそれ欲しいです!」と次々と声をかけられ増刷し200冊制作。

The first CITTA TECHO, deserving of commemoration. It was a ring-binder. This was the schedule notebook that made me develop my ideas into an actual product. At the time, I did not have the budget so I got the printing company to print just five copies as samples. When I put it on my social media, lots of people said they wanted the same thing so I ended up getting 200 printed.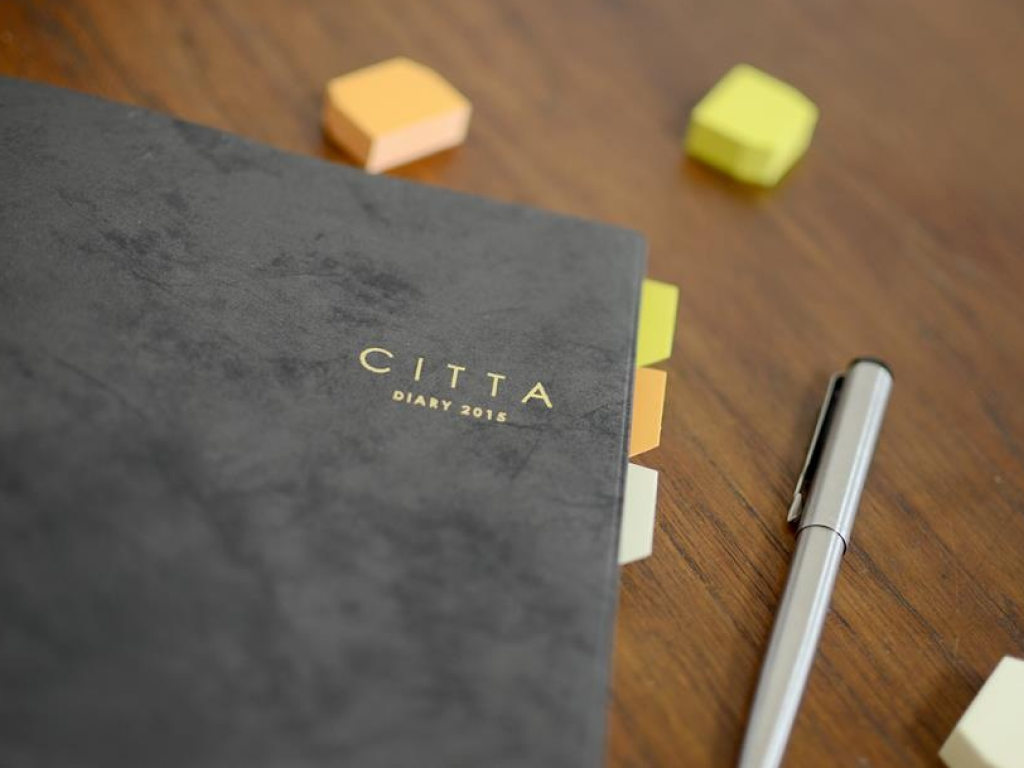 2015
「製本タイプの手帳がいい」とお客様のリクエストにお応えして作ったもの。
製本にするには1000ロットから制作することが条件でした。
昨年が200冊しか売れていないのに「いけるんじゃないか」というただの勘を頼りに1000冊制作してしまう。
当初は色を選ぶ余裕もなく、このブラックのカラーのみの展開でした。当時から外見よりも中身にこだわり使っていました。Amazonで売りだしたのもこの頃からです。

I created this to respond to requests from customers for a bound schedule notebook. I could only get them bound on condition that I ordered a 1,000 notebook lot. The year before I had only sold 200 notebooks but I went with my gut and decided I would manage to sell them. At the time, there was no wiggle room to choose colours so they were all black but I had always been more particular about what was on the inside rather than how they looked. This is when I started selling on Amazon.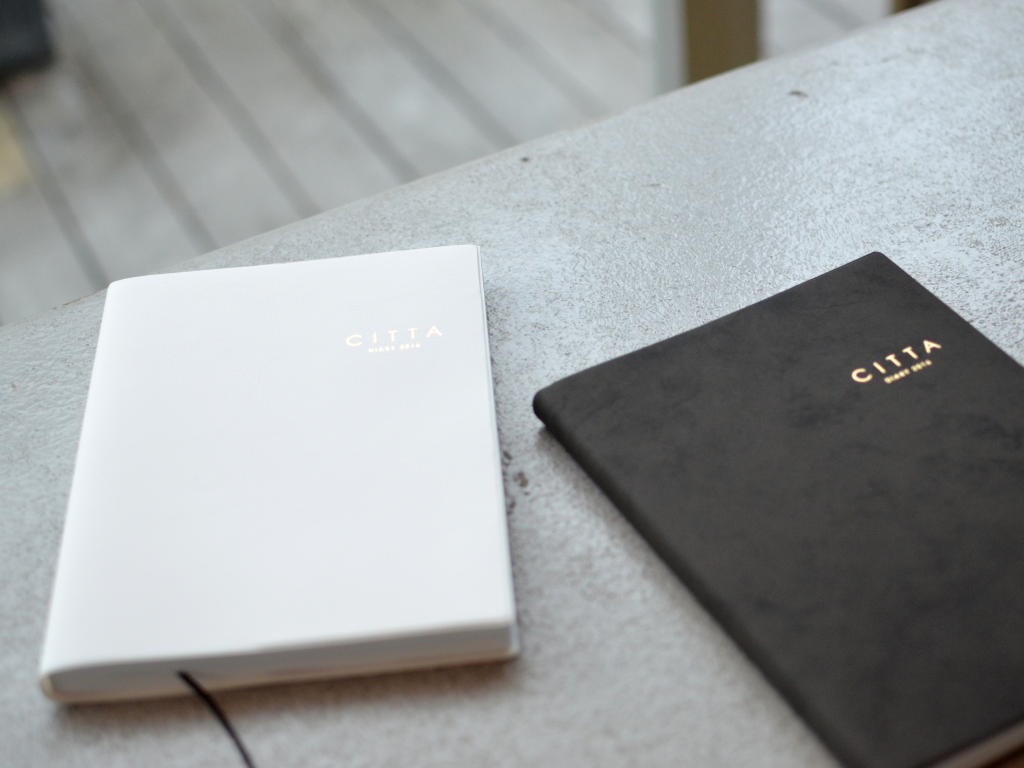 2016
黒と白が登場。女性が持ちやすい色を考えた時に目に留まったのがこの白。
当時手帳で白は珍しく、製造会社からは「汚れがつくのでクレームが出やすい色ですよ」と言われたもの。
それでも、「真っ白な白が可愛いから」とこの白にこだわり作ったものです。

I launched black and white. I decided on this white colour when I was thinking about what colour women would prefer to carry. At the time, white notebooks were rare and the manufacturing company told me that I might get a lot of complaints because they would be easily marked. Even so, I thought this pure white was cute so I got it made anyway.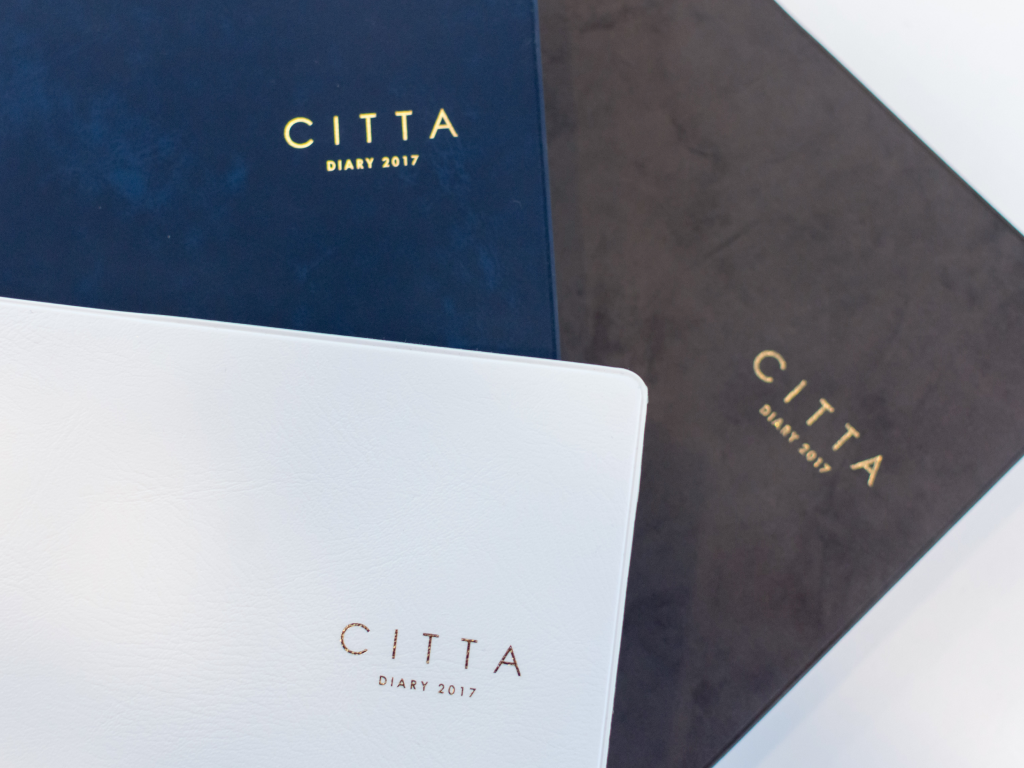 2017
大人っぽいネイビーが登場。ついに3色展開。
黒と白が来たら次に考えたのがネイビー。
男女ともに手に取りやすいことを考えてこの色に。
CITTA手帳に「大人っぽさ」「エレガント」「上質」を意識して作るようになりました。

The sophisticated navy notebook was launched, giving a choice of three colours. Once I had a black and a white version, the next colour I thought of was navy. I chose this colour because it suits both men and women. I made this with an awareness of sophistication, elegance and refinement for CITTA TECHO.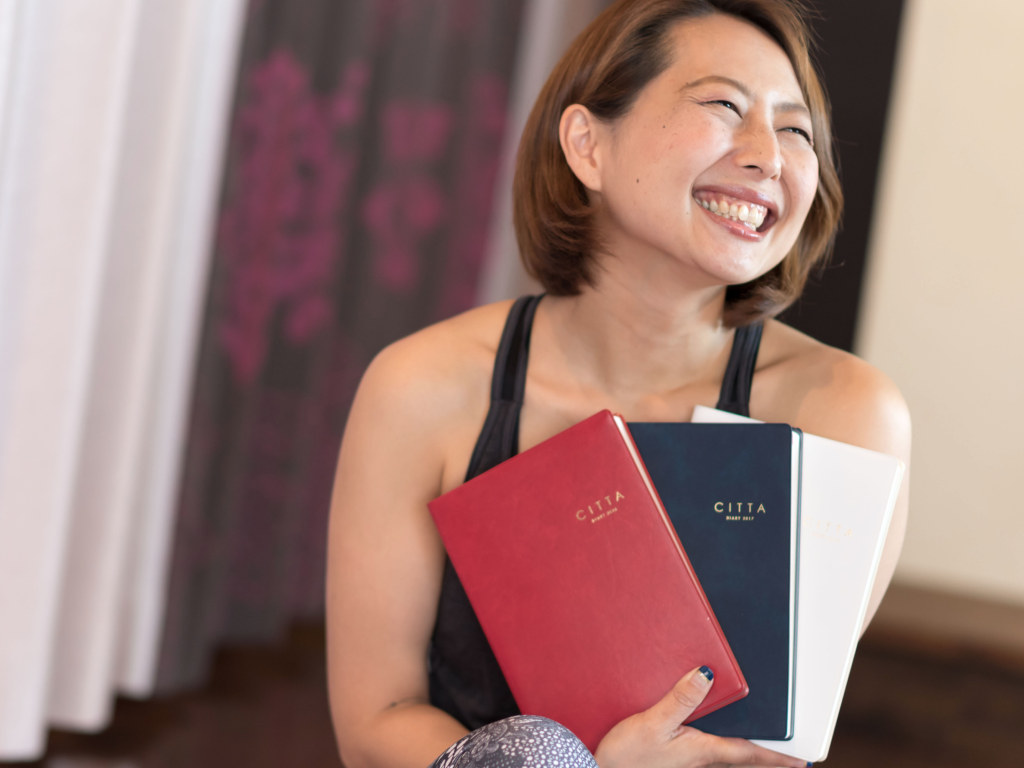 2018
女性が好きな大人の赤色が登場。
CITTA手帳を使う女性がどんどん飛躍するイメージが出来て、本当に広がっていくにはどうしたらいいか毎日考えていました。
CITTA手帳術のノウハウを書籍にしたい!と『未来を予約する手帳術』かんき出版さんより出版させていただきました。
その本の影響でそれまで5千冊だった手帳が一気に2万部が完売。
多くの人に伝わったことを本当に嬉しく思っています。

A sophisticated red colour, preferred by women, was launched. I thought every day about how to expand the range as I realised that more and more women were using CITTA TECHO. I wanted to get the CITTA TECHO technique know-how into a book so I published 'CITTA-style schedule notebook writing technique for booking your future' with Kanki Publishing. This book brought in more customers and the notebook that was selling 5,000 copies suddenly jumped to selling 20,000. I am really happy that so many people know about CITTA TECHO now.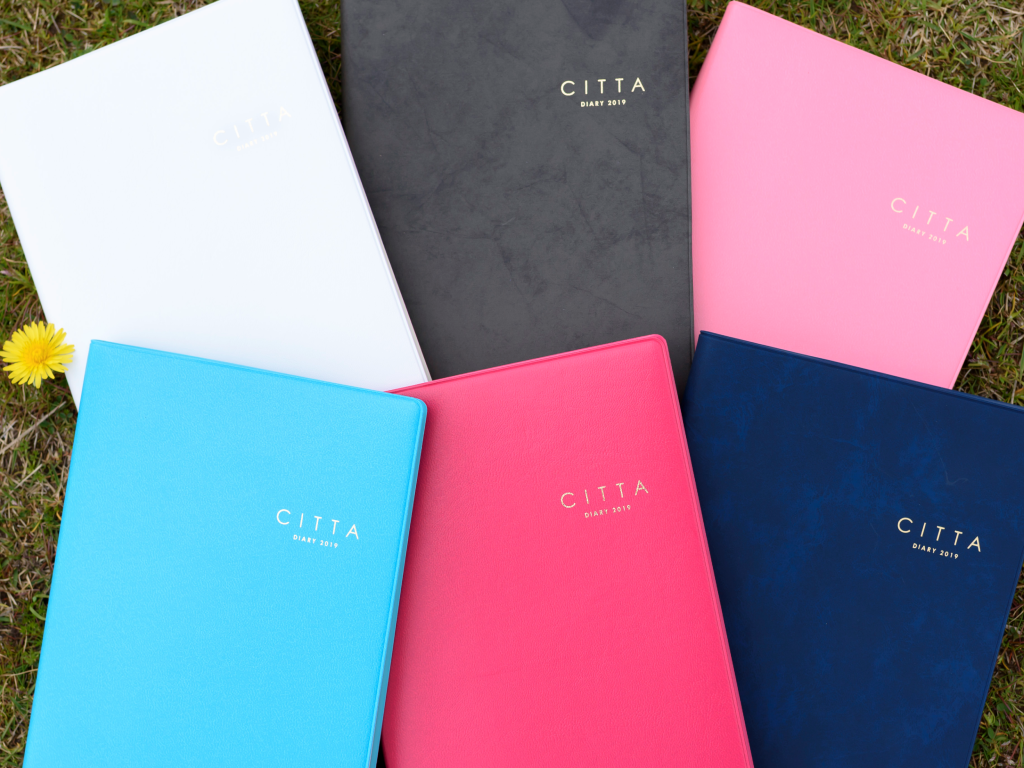 2019
一気に増えたカラーバリエーション。
持っているだけでウキウキするカラー展開に。
お客様のご要望で制作した春ダイヤリーも好調になり「働く女性」「専業主婦」「ワーキングマザー」とどんな女性にも幅広く支持されるように。
おかげさまで毎年飛躍する手帳になったCITTA手帳。
これもお客様に愛され続けたからであると自負しております。
CITTA手帳は、「あなたの時間を取り戻す手帳」としてこれからも成長し続けます。

Development of colours that make you excited just to hold the schedule notebook.  The Spring schedule notebook that was created at the request of customers also became popular and was widely supported by all sorts of women including working women, homeworkers and working mothers. Thanks to all those customers, CITTA TECHO sales jump every year. I am proud of the fact that this is because customers have continued to love and use them. CITTA TECHO will continue to grow as 'schedule notebook that give you back your time'.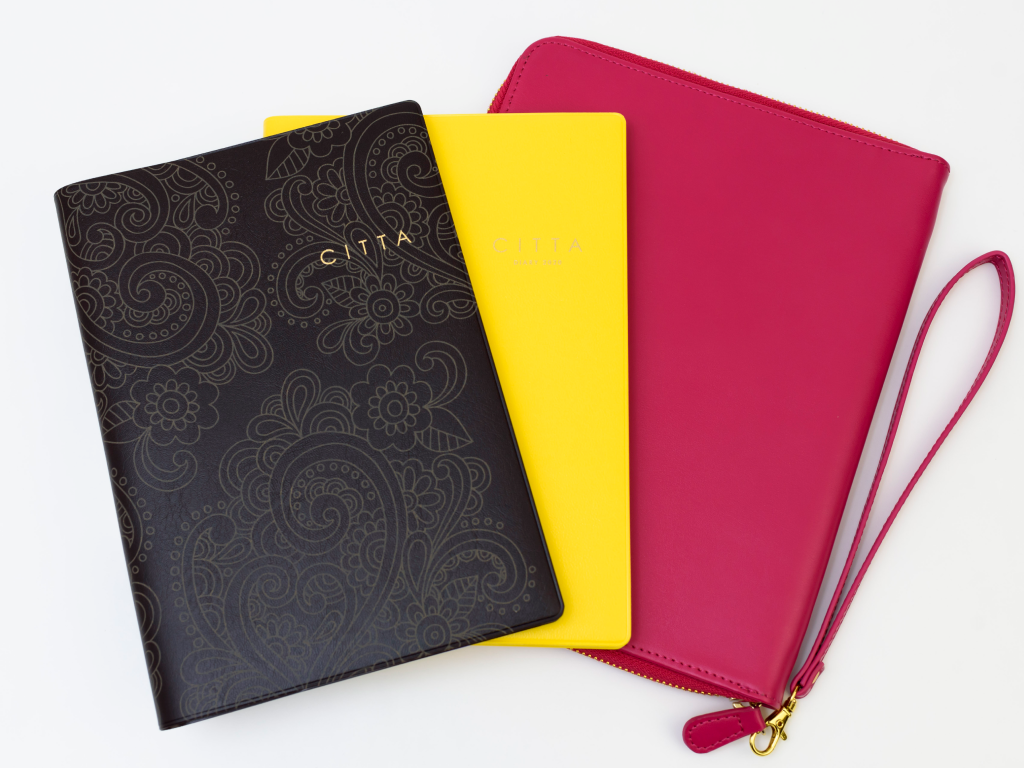 2020
オンラインショップが立ち上がり、
CITTA手帳以外の商品(オリジナル手帳カバー、CITTAノート)が
新たに販売することになりました。
セット販売を行うことで、CITTA手帳を使いながらCITTAノートを開く。
オリジナル手帳カバーとCITTA手帳のカラーコーディネートを
楽しむなど、カスタマイズすることで各々の手帳の使い方の幅が広がりました。

The online shop was launched and we started to sell other things in addition to CITTA TECHO (unique schedule notebook covers, CITTA notebooks). Selling them in sets, customers were now able to use their CITTA TECHO and take notes in their CITTA notebook at the same time. The range of uses of the schedule notebook broadened as customers began to customize their experience by, for example, colour coordinating their schedule notebook and its cover.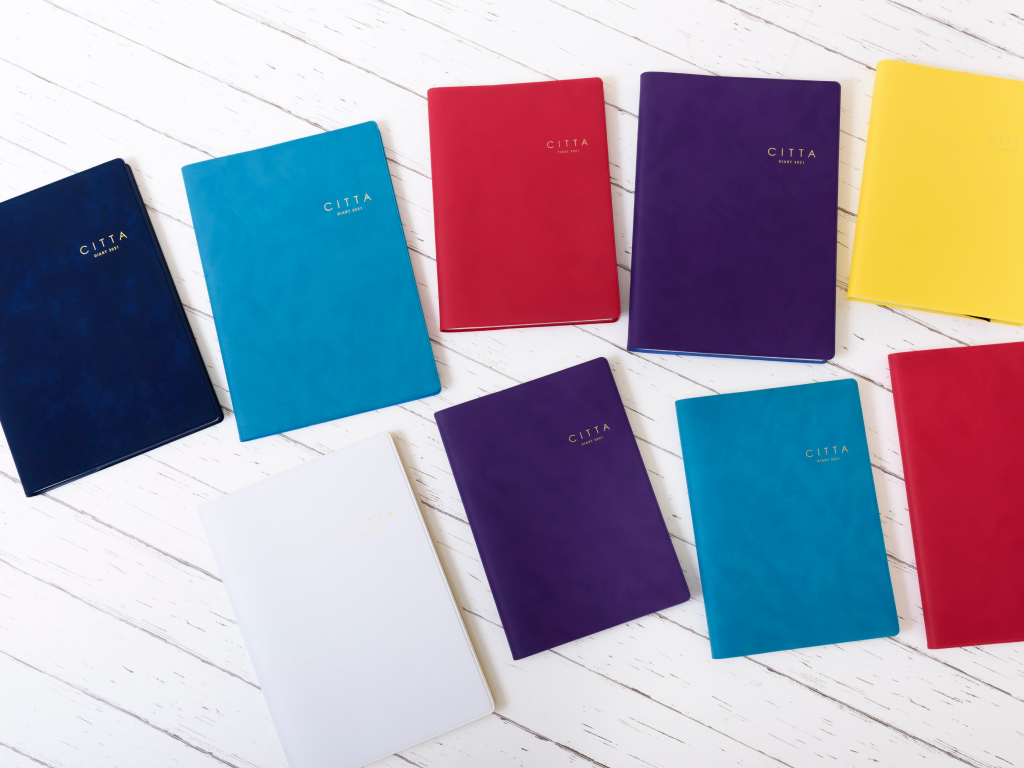 2021
いよいよ待望のCITTA手帳 B6サイズが登場します。
一回り小さく、可愛いサイズでデビュー。
(B6サイズに販売は、全国の書店とオンラインショップでお買い求めできます)
カラーを心機一転し、新しい色を3色導入しました。
新色は全てマットな質感で落ち着いた色合いです。
もちろん定番のピュアホワイト、インディゴネイビーは今まで通りの質感で。
去年人気だったミモザイエローは新たにB6サイズで登場しました。
どのカラーもしっくり馴染む手触りが一年間あなたに寄り添ってくれます。

The long-awaited B6 CITTA TECHO was launched. One size smaller – the debut of the cutest size.(B6 size is available in bookshops nationwide and in the online shop.) Turning over a new leaf, we introduced three new colours. All three new colours are muted matte tones with a quality feel. Of course, the classic pure white and indigo navy still have the same quality feel. Mimosa yellow, a popular colour last year, was introduced for the B6 size. Each colour and the familiar feel of the schedule notebook will accompany you throughout the year.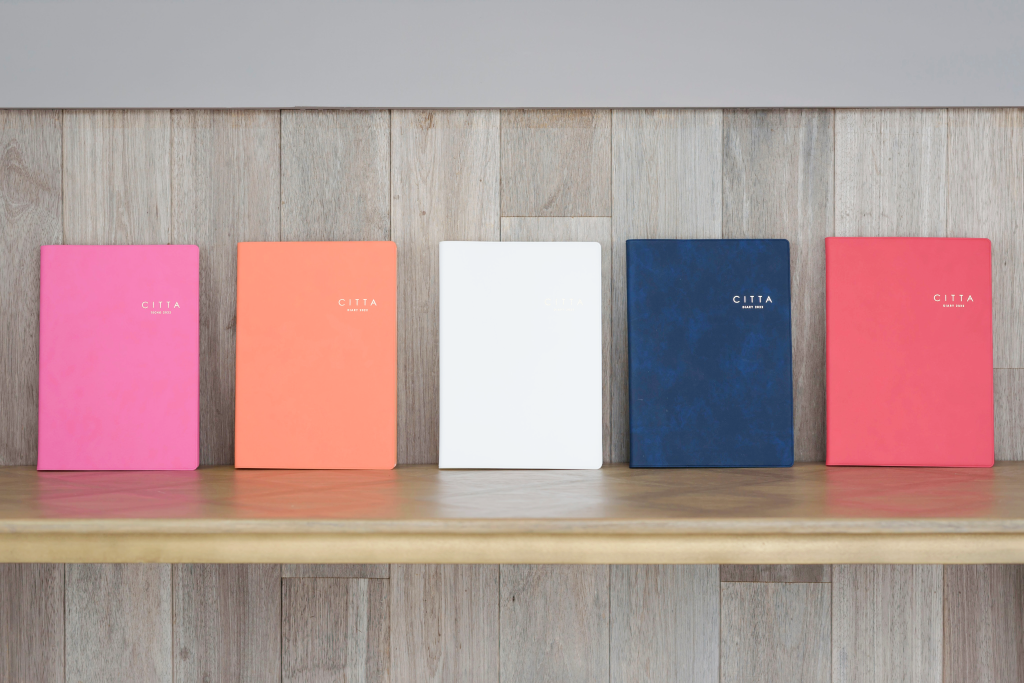 2022
CITTA手帳がついに世界へ!
海外のお客様からお問い合わせを頂くことが増えたため、英語版の販売を決定しました。
記念すべき第一弾のカラーは気分が華やぐマーベラスピンクです。今年の日本語版の新色は高貴な雰囲気のあるマンダリンオレンジ。
また今年はウィークリーの仕様を5時始まりから4時始まりに変更し、24時間可視化できるよう改良致しました。
CITTA手帳が日本の女性のみならず、世界中の方がやりたいこと・夢を叶えるお手伝いが出来れば嬉しいです。

CITTA TECHO celebrates its global release! I have decided to sell the English version as we have increasingly received more inquiries from overseas customers. The first colour to commemorate the global release is marvelous pink, which makes you feel gorgeous. The new colour of this year's Japanese version is mandarin orange with a noble atmosphere. In 2022, we also changed the weekly specifications from 5 o'clock to 4 o'clock, enhancing the features so that it can be visualized 24 hours a day. I would be happy if the CITTA TECHO could help not only Japanese women but also people all over the world to do what they want to do and realize their dreams.